---
"Homies with Extra ChromiesTM - Genuine Connection - Genuine Affection."  This shirt celebrates our loved ones with Down syndrome.  Also available in Long Sleeve.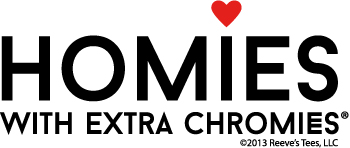 Homies with Extra Chromies® is a registered trademark of Reeve's Tees.  Chromies™ and Get Comfortable with Difference™ are also a trademarks of Reeve's Tees.
Buying tees with our trademarks helps to support our mission of providing meaningful work opportunities to adults with Down syndrome and other intellectual disabilities.
---
Share this Product
---
More from this collection